Giordano Corredi is a company highly specialized in refined linen fabrics for newly married couples. She personally chooses the fabric of high quality to handcraft her collections, quilts and quilts for the double bed, sheets, towels and tablecloths. Thanks to Giordano Corredi's commercial agents, Corredo linen is always at your disposal : just call the number 3938883965 and a commercial agent in your area without obligation purchase , will come to your home to show you the catalog and order what you will choose for your new home. Giordano Corredi has 5,000 garments exclusive with 50 brands very important.
Collections u>
The collections of Giordano Corredi are many and each with a different style and with a different design to make you feel every day in a different place. In fact, its design reflects a lot the name of the collection. The components of each collection are made of pure linen and hand-finished rebrode lace . With the collections of Giordano Corredi you have the guarantee of buying the fabric made exclusively by expert hands and passed again to control it in detail and to apply the rebrode lace. Even the quilts and the quilt of each collection are handcrafted from a unique fabric capable of keeping the right temperature for those who cover themselves with them and are perfectly in line with the collection used.
Sheets u>
Even the sheets of the double bed have the fabric of linen or cotton which, in contact with your skin, you will always feel in a special place made exclusively of dreams and cuddles. These have designs unique , personalized to the collection, by Giordano Corredi that will reflect the collection used at that time and with the collection, also your way of being. Furthermore, certain collections have sheets with more or less embroidered edges in rebrode lace or refined designs of flowers or leaves or flowers. On Giordano Corredi you will find sheets full of quality and style so their main features are highlighted. They are white or colored to match the various colors of the room or the quilts used in your double bed.
Towels u>
With the collections we also find two sets of towels: one for you and one for your guests. The towels are of linen fabric with embroidery that recall the collection used in your sleeping area with hand-finished rebrode lace. Thanks to linen, your hands and those of your guests dry gently from the water without smears that remain in the skin unnecessarily.
Tablecloths u>
They are very refined with very fine decorations . They are of various materials and various styles: linen or cotton in sober or very colored colors. In fact, with cutlery and flat sets, they are able to put good humor every day at the table . You can choose tablecloths that characterize you the most. In addition, tablecloths can be found with lace decorations or leaves.
With Giordano Corredi you can find a vast choice of linen outfits for you that you are about to marry and also after your important day in order to be able to call back to you and to your loved one your period happy and carefree. In addition, if you buy Giordano Corredi's outfit linen, you will be promoted € 10 to week to spend on the products of the big brands.
Div>
Sposa d'inverno: che bella favola. Sposarsi in inverno è abbastanza curioso poiché solitamente si preferiscono temperature un pò più primaverili ma non solo: si tende
Continua a leggere »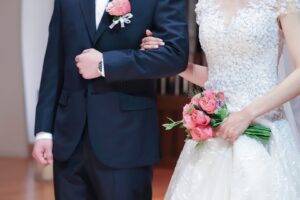 costi matrimonio
Nota dolente dell'evento tanto desiderato da una coppia soprattutto dopo il Covid-19, è sul costo matrimoni. Molti sposi, infatti, non hanno fin da subito una
Continua a leggere »